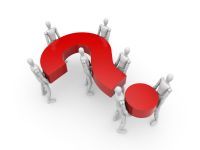 Here you'll find answers to common questions our clients ask. You will also find our Terms & Conditions with regards to the basic use of our site and the purchase of products. Start by selecting one of the links below. If you don't see what you need – call or contact us online.
At what resolution should I save my photos and graphics?

Resolution should be set to 300 dpi.

Pictures and graphics pulled from the internet are often low resolution, typically 72 dpi or 96 dpi. Avoid these graphics, as they will appear pixilated and blocky when printed.

Also note that you should save all photos in CMYK mode, not RGB mode when possible. Images saved in RGB mode may not print properly. If you are unable to save your image in CYMK mode, please let us know.

How do I go about getting an estimate from you?

Glad you asked! You can use our online estimate request form; send an e-mail; FAX; or call us. We may ask a few questions to be sure we understand exactly what you want done, and we'll also ask how you would like to receive your estimate (e-mail, FAX, return phone call).

We also may ask you a few questions about timing -- when do you need the quotation and whether the project is "live" or still in planning stages. This helps us schedule our followup with you.

How long does it take for you to complete my order?

It depends on the type of work we're doing for you. Digital print work can be done in 5 to 7 days. Custom designed business forms or custom file folders can take several weeks to produce.

Tips on how to save your design files

Make them print ready and acceptable for us to print.

COREL DRAW:
Saving your Corel Draw file as an Adobe Illustrator EPS
• Embed all Images
• Convert all your text/copy to outline fonts
• Export as Illustrator EPS

FREEHAND:
• Embed all Images
• Convert all your text/copy to paths
• Export as Illustrator EPS or PDF

PAGEMAKER:
Saving your PageMaker file as an EPS
• Embed all Images
• Convert all your text/copy to outline fonts
• Export your file as an EPS using the below settings:
Postscript Level 2
CMYK Mode
TIFF format and
Binary

PUBLISHER:
You will need to have the full version of Adobe Acrobat PDF. If you don't please download and use our Adobe Job Ready Program. If you do have the full version of Adobe Acrobat PDF please follow the steps below.
Under File, Print, select Adobe PDF writer
Under Properties select Press Quality and Save your PDF

What credit cards do you accept for Payment?

We accept MasterCard, Visa and American Express.

What electronic file formats do you accept?

For standard documents, our standard formats are PDF (portable document format), Quark Xpress, Adobe Illustrator Adobe PageMaker, Adobe InDesign, Microsoft Publisher and Corel Draw.

For mail lists, our standard file formats are dBase, Microsoft Access, Microsoft Excel and ASCII.

What file format should I use when submitting my electronic document for printing?

PDF (Portable Document Format) is the most common and preferred file format for submitting digital documents. With the installation of a PDF print driver on your computer, virtually any program can generate a PDF file suitable for printing. Both commercial and free PDF print drivers are available online for download from different sources.

What if our business needs warehousing and fulfillment services

Our network of manufacturer warehouses and distribution centers add a powerful option to your print buying. We can print your materials, store them in our warehouse and feed them to you and your locations at your request or at preset intervals. That way, you achieve the cost savings of printing all your materials at once. Yet, you can roll them out in limited quantities that follow your schedule. And, you won't even have to worry about storing them yourself.

What is a "proof"?

A proof is a way of ensuring that we have set your type accurately and that everything is positioned according to your requirements. Typically, we will produce a proof which will be sent to you via email or printed on paper which can be viewed at our location or delivered to you in person.

On multiple color jobs, we can produce a color proof on our color output device to show how the different colors will appear.

What is the Pantone Matching System?

The Pantone Matching System (PMS) is a color reproduction standard in which colors all across the spectrum are each identified by a unique, independent number. The use of PMS allows us to precisely match colors and maintain color consistency throughout the printing process.

Why do the printed colors look different from the colors on my screen?

In short, printers and monitors produce colors in different ways.

Monitors use the RGB (red, green, blue) color model, which usually supports a wider spectrum of colors. Printers use the CMYK (cyan, magenta, yellow, black) color model, which can reproduce most—but not all—of the colors in the RGB color model. Depending on the equipment used, CMYK generally matches 85–90% of the colors in the RGB model.

When a color is selected from the RGB model that is out of the range of the CMYK model, the application chooses what it thinks is the closest color that will match. Programs like Adobe Photoshop will allow you to choose which color will be replaced. Others may not.

Terms & Conditions

Welcome to Flashbizsolutions.com, This website is provided by Flash Business Solutions (referred to throughout this website as "Flash") as a service to our customers. Please review the following basic rules that govern your use of the Flashbizsolutions.com site. Please note that your use of the Flashbizsolutions.com site (the "Site") constitutes your unconditional agreement to the follow and be bound by these Terms and Conditions. Although you may "bookmark" a particular portion of the Site and thereby bypass this Agreement, your use of this Site still binds you to these Terms and Conditions. Flash reserves the right to update or modify these Terms and Conditions at any time without prior notice to you, and we encourage you to review these Terms and Conditions whenever you use this site.

Purchase of Products

1. All prices and amounts shown on this site are in U.S. Dollars (USD), unless otherwise noted. If a User submits a request on the Site to purchase the User agrees to all charges, taxes and shipping/handling fees will automatically be charged to the credit card or paid by User with an approved payment method.

2. All prices and products are subject to change, discontinuation and modification without notice or obligation. Prices do not include shipping, handling, applicable sales tax or service charges. Shipping, handling and services charges may vary.

Flash charges sales tax on orders received from within the state of California unless you are tax exempt. If you are tax exempt, you need to send or fax to us your tax exemption certificate.

3. Prepayment in full speeds your order through our credit department and helps establish credit for future orders. Once your first order has been completed and your payment has been processed, you may be eligible to establish credit for subsequent orders on the site. If you are interested in establashing credit for future purchases please contact use for a credit application.

4. At Flash Business Systems we strive to provide our clients with the best possible products and services. If you are not 100% satisfied with your order for any reason, please contact our customer service department. Our representative will document your complaint and create a ticket for your reference.

We will replace any Flash product found to contain errors caused by Flash Business Systems or to be defective in workmanship or materials. While Flash and our suppliers take care in the manufacture of such products, it is commercially impossible to detect all errors and imperfections. Therefore, no other warrenty is given, and all affirmations, samples or models made or shown are for illustrative purpose only. THE ABOVE WARRANTY IS EXPRESSLY IN LIEU OF ALL OTHER WARRANTIES AND REPRESENTATIONS, EXPRESSED OR IMPLIED, INCLUDING, BUT NOT LIMITED TO, IMPLIED WARRANTIES OF MERCHANTABILITY, FITNESS FOR A PARTICULAR PURPOSE AND NON-INFRINGEMENT. IN NO EVENT WILL Flash Business Systems BE LIABLE FOR ANY INDIRECT, SPECIAL, INCIDENTAL, CONSEQUENTIAL OR OTHER DAMAGES OF ANY NATURE OR DISCRIPTION DAMAGES RESULTING FROM ANY USE OR MISUSE OF ANY PRODUCT OR ANY ACT OR OMISSION BY Flahs Business Solutions, NOR WILL Flash Business Solutions BE LIABLE FOR ANY BREACH OF WARRANTY (OR OTHER OBLIGATION BINDING UPON Flash Business Solutions) IN AN AMOUNT GREATER THAN THE PURCHASE PRICE OF THE PRODUCT ACTUALLY PAID TO Flash Business Solutions.

4. The purchase of products through Flashbizsolutions.com online store and any non-Flash manufactured products represented on this site are subject to the applicable warranty/return policies offered by the manufacturers of such products.