Pre-Printed Software Compatible Checks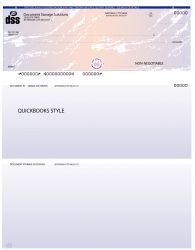 While we sepcialize in designing the products
that fit your specific needs we realize sometimes a standard Software Compatible Check might just do the job.
Having checks compatible with your software and that are Check 21 Compliant is essential. Don't waste time or money – find the right business checks the first time by letting us know what software your using. Flash Business Solutions have standard layouts for over 650 programs. If you need something special, don't worry, we'll custom design a template for you. Just contact customer service.
We guarantee 100% compatibility with your accounting software, including QuickBooks®, Peachtree® and 650 other titles. Our laser business checks are offered in voucher, wallet, and 3 on-a-per page styles. Choose the one that best suits your business needs.
Click here to view our Standard Backgrounds, Colors and Security features.
Our Fraud Beating Check Designs including ink combinations make our check backgrounds all but unbeatable. Some of the best check backgrounds include:
Color changing designs that are printed with "thermochromic ink". This ink is heat sensitive and color copiers generate heat as part of their copying process, thereby changing the background color that the copier will show when the copy comes out. The colored background returns to the original color when the paper cools back to room temperature.
Our "Copy Alert" check backgrounds that change their design pattern when copied or scanned are a great deterrent to both color and black and white copiers and scanners.
We include fluorescent fibers that can only be viewed under a black light.
Endorsement back printing on the reverse side of the check allows space for the inclusion of a box area that lists all of the features present on the check paper.
A Padlock Icon printed on the face of the check in "thermochromic ink" indicates your check contains features recognized by the Financial Stationers Association.
The "MP" symbol is used to indicate where microprinting is present.
To Learn More About Check Fraud Prevention Click Here