Pressure Seal Equipment, Forms and Checks

Now there is a way to eliminate those laborious folding, stuffing and sealing chores with just one affordable printer accessory. Who can use Pressure Seal Mailers
Construction Companies, Janitorial Companies, Schools, Hotels, Non-Profit Groups, Clinics, Insurance companies, Business-to-Business, Utilities, Direct Mail,Manufacturing Companies and many other Businesses and Associations that mail single sheet documents.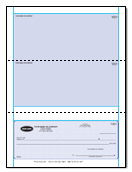 Preassure Seal Mailers Applications
Payroll Checks, W-2s, jury summons, subscripton notices, insufficient fund notices, tax statements, grade reports, benefits summary, policy changes, invoices, reservation confirmations, renewals, monthly billings, pledge agreements, product promotions, refunds, expiration notices, gift certificates, direct deposit slips, membership card mailings and newsletters.
Click here to watch a video and learn more about our Stand-alone and In-line Mailing Equipment

I would like to discuss using Pressure Seal in my business !